1 Liter of Tears is a famous Japan drama. This drama is about someone who called Ikeuchi Aya.
Aya is an active girl especially in basketball sport. Since secondary school she joined basketball club in her school. She also excel in his study.. she is perfect!!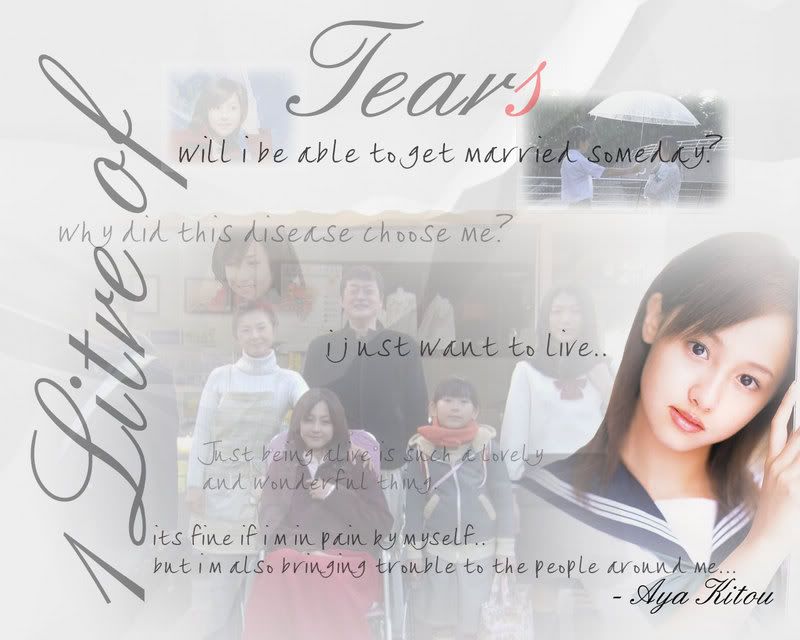 But..this condition does not last long forever. When her age at 15, she get such cruel disease;
spinocerebellar degeneration
. She fights on her own to this disease and more ill day after day. She can't walk properly, can't eat properly and also can't speak properly too.
She become gloomy and sad, she says:
" why did this disease choose me?"
" will I able to get married someday?"
" I just want to live.."
After I finished watching all this drama I unbelievably become more grateful because I still have feet to walk, I still got my hands to write and I become more cared with words that spilled out from my mouth.
But when I see from different site, I just realized that have another an awesome person. And he have same fate like Aya but he absolutely can change the world. And he is As-Syahid Sheik Ahmad Yasin.
He cannot walked well and paralysed since childhood. He can't speak too well and only have such a soft voice. So that, we have to hear properly what he gonna to say. He is a leader for Palestine people. He acts as Palestine people's voice. Fight for freedom for his motherhood country. Even though his condition such a lethargic person but Israel quiet scared with this person. Syeikh Ahmah Yasin also a leader to Hamas that responsible to the first intifada
(1987-1993).

However, he meet his Lover trough syahid by rocket bullet that was launched by Israel after doing Dawn prayer on 22 March 2004.

"Yassin is a man in a nation, and a nation in a man. And the retaliation of this nation will be of the size of this man," - Abdel Aziz Rantisi.
And now I hope you all can really make conclusion between this two persons who are the best that we can idolized more
.
For me, being sick is because God love u.. Only certain person gained disease and God chose us. You are special!!